Ethiopia is a large country and the highlights are far apart. It seems obvious to use the network of the very reliable national carrier Ethiopian Airlines but Ethiopia has so much more to offer than only the highlights and the scenery is spectacular. We recommend traveling all over Ethiopia by road and taking ample time to explore on foot. Whether to enjoy the beautiful scenery, a colorful market, or whatever you come across while on the road. Having said that, we understand that available time is not unlimited and choices have to be made about which transport to use. Many tours have at least one domestic flight in their itinerary.
By road
The road network of Ethiopia has undergone huge improvement in recent years. Still, they are working hard to improve the infrastructure. Many roads are very well possible with a (mini) bus but because of the many detours which come together with improving the road network and still remaining, sometimes bumpy, gravel roads make a 4WD vehicle often a better choice. To reach the far corners of the south a 4WD vehicle is a must. For real expeditions like into the Danakil Depression, you will travel in a convoy of at least two 4WD vehicles.
Depending on your budget, where you want to go, and how many you are we will advise you on the best way of transport. Most of the time you will travel with one of our own, latest model vehicles. All vehicles we use are well-maintained and comprehensive insured.
Toyota Hiace minibus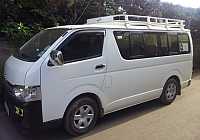 Our Toyota Hiace minibus is mainly used for airport transfers, city tours, and day trips from Addis Ababa but is suitable for small groups to go further afield as well. The seating capacity is a maximum of 14 passengers but for comfortable seating, we recommend not traveling with more than 9 passengers.
Toyota Landcruiser HZJ76 4WD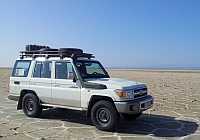 The Toyota Landcruiser HZJ76 is our standard 4WD and is the strongest and most reliable vehicle available. Suitable for every thinkable road condition, when this vehicle cannot take you there no other vehicle will.
The seating capacity is a maximum of 9 passengers but we usually don't go beyond 4, not using the benches in the rear and only one person next to the driver.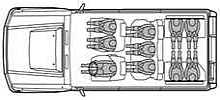 Toyota Landcruiser 200 V8 4WD SUV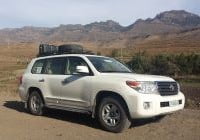 If you want more comfort we recommend our luxury vehicle, the Toyota Landcruiser 200 V8. This is a very comfortable and spacious vehicle.
The seating capacity is a maximum of 7 passengers but we recommend not more than 6, with a maximum of 2 passengers in the last row.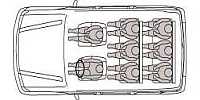 Toyota Coaster bus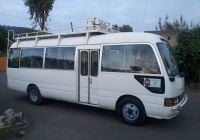 For bigger groups, the Toyota Coaster bus is often the best choice when 4WD is not necessary. It is a very sturdy vehicle capable of driving rough roads.
By air
Ethiopian Airlines is the sole provider of scheduled domestic flights to the tourist destinations. Modern Bombardier Q400 (78 seats) planes are used for these flights. The luggage allowance is 23 kg for check-in and 7 kg for cabin luggage, excluding a small hand/laptop bag and a small camera. International regulations are followed and security at airports is very strict.
Airfare for domestic flights is much cheaper when you book your international flight with Ethiopian Airlines.
If you are on a tight schedule we can organize charter flights to any destination in Ethiopia. Please contact us for details.
Our most popular packages