The Gojjam Road
The Gojjam road is leaving from Addis Ababa to the north. It is named after the former Gojjam province. This is the road leading to Bahir Dar
Debre Libanos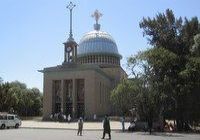 The monastery of Debre Libanos is founded in the 13th century by Saint Tekle Haimanot. It is believed this monk prayed for 7 years standing on one leg, finally losing the unused leg. God rewarded him for his devotion with wings and that's how the saint is depicted: a one-legged saint with wings. A short steep path from the main church leads to the cave where Tekle Haimanot was praying. The faithful take holy water from there.
The modern church is built in the 1960s. Its predecessors have been destroyed several times, the last time during the Italian occupation. Until the independence from the Coptic Orthodox Church (with the patriarch in Alexandria) in 1959 the head of Debre Libanos, the 'echege' was the highest position for an Ethiopian in the Ethiopian Orthodox Church. Since 1959 the church has had its own patriarch based in Addis Ababa.
The monastery is situated in beautiful surroundings which is best explored on foot.
The distance from Addis Ababa to Debre Libanos is 107 km, and it takes close to 2 hours to get there.
Ras Darge's Bridge (Portuguese bridge)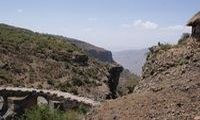 Nearby Debre Libanos an old bridge is found, built by Ras Darge late 19th century. Because of its architecture, it is often called 'the Portuguese bridge'. A gentle walk to the bridge offers awesome views over the Jemma River valley down below. The endemic gelada baboon is often found in the surrounding area as are many species of birds.
For those who want to stay overnight in the area, the Ethio-German Park Hotel has attractive bungalows with stunning views over the Jemma Valley.