Tigray
The Tigray region in the north of Ethiopia is a hidden gem overlooked by many. Time wise it is understandable to fly from Lalibela to Axum but you will miss extraordinary scenery and the seldom-visited rock-hewn churches which are in the same league as their counterparts in Lalibela. Not to talk about the oldest structure of Ethiopia, the Yeha temple. The 6th-century monastery of Debre Damo situated on the top of a mountain is also worth a visit, unfortunately, women are not allowed to enter. This monastery, founded by Abuna Aregawi, one of the Nine Saints who spread Christianity over Ethiopia, is only accessible by climbing up the cliff with a long rope. The whole of Tigray is one big open-air museum.
Yeha Temple
This temple with its 12 meters high standing wall is made of sandstone blocks without using any mortar. It is built around 700 BC. Yeha was the capital of a pre-Axumite kingdom and very little is known about it. In the 6th century, the temple is incorporated as a church by Abba Aftse, one of the Nine Saints. A new church is built next to the temple and there is a small museum with beautiful treasuries.
Rock-hewn churches
Many rock-hewn churches are hidden in northeast Tigray. Seldom visited by tourists and very little is known about them. Some are easily accessible, while others need a strenuous hike in this mountainous area to reach. Because most of them are churches and not monasteries, men and women are allowed inside.  The more accessible churches are possible to visit en route from Axum to Mekele.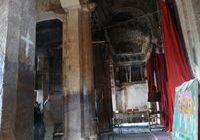 The beautiful Gheralta Lodge is a very good base to explore the area. In Adigrat or Mekele, ample accommodation is available.