Gondar
Emperor Fasilidas founded Gondar around 1635. It was the medieval capital of Ethiopia for over 200 years. The hilly surrounding made it easy to defend, malaria was absent because of the high altitude and fresh water available from several rivers. Its founder and his successors left the town with marvelous castles and churches and is nicknamed "The African Camelot".
Nowadays Gondar is a lively university town with a pleasant town center which was built by the Italians and is still called Piazza. The town is famous for the asmari's (praise singers) playing their masinko's (one-string violin-like instrument). It makes a nice evening out to see them performing in one of the Asmari Bet's.
The small village of Wolleka, just north of Gondar, is a little reminder of the  Falasha (Ethiopian Jews) community whose origin is not known. It's believed their story is  connected to King Solomon and the Queen of Sheba
Royal Enclosure (Fasil Ghebbi)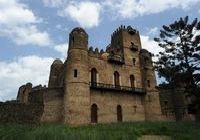 Graceful castles built in the 17th and 18th centuries by the successive Gonderine kings are found on the 70-hectare compound. In addition, it contains many other structures among them a sauna (said to treat Iyasu the Great who was suffering from skin disease) and a lion cage to symbolize the connection with the Lion of Judah. The Royal Enclosure or Fasil Ghebbi is a World Heritage Site.
Fasilidas Bath
Not known if it is founded for leisure or religious purposes by the royal family, nowadays it is the main site for the very colorful Timket celebrations in Gondar. It is a very peaceful place to walk around. On the site is a monument that is believed to be the grave of Zobel the brave horse of Fasilidas.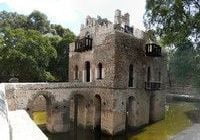 Kuskuam Maryam
A rough road leads to Kuskuam, a few kilometers out of town. It was the residence of Empress Mentewab. Not as well preserved as the Royal Enclosure it still makes a worthwhile visit. On November 15th (16th in a leap year) the colorful Debre Kuskuam, remembering the apparition of St. Mary during her exile in Egypt, is celebrated here.
Debre Birhan Selassie Church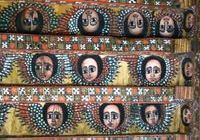 During the invasion of the Mahdist of Sudan in 1888 almost all the churches of Gondar have been destroyed. It is said this church survived by the protection of a swarm of bees. Well known for the elaborately decorated inside including the world-famous ceiling with the angel faces. Every 7th day of the month (Ethiopian Calendar) Selassie Day (day of Trinity) is celebrated.