Harar
The walled city of Harar is considered the 4th holiest city of Islam in the world after Mecca, Medina, and Jerusalem. The wall (Jugol) with five gates is built in the 16th century to protect the town after the failed conquest of the Christian highlands by Ahmed Gragn ' the left-handed'.
Harar is a lively, friendly town set in a fertile agricultural area, famous for the coffee grown there. Another cash crop found around Harar is qat, a mild stimulant. Both products are consumed in large quantities in the town.
World Heritage Site
The old town harbors 82 mosques (3 dating back to the 10th century) and 102 shrines. Besides the religious monuments, the town has many old townhouses with exceptional interior design. Harar Jugol is one of the nine World Heritage Sites of Ethiopia.
Explore the town
The maze-like layout of the town is best, and largely only, explored on foot. A local guide is essential to find your way around and is a good source of information about the rich history of the town. Meanwhile, you will enjoy the vibrant daily life with markets, tailors, blacksmiths, coffeehouses, and the like. Arthur Rimbaud, a 19th-century French poet is one of the famous former residents of the town, his house is now a museum. Other interesting museums are also found.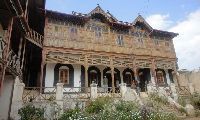 The Hyena Man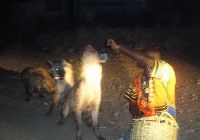 The most famous resident of Harar at the moment, at least for tourists, is the Hyena Man. This brave guy hand-feeds the hyenas who are living around the town every evening just outside the wall. He is even passing the meat to the animal's mouth to mouth. You are invited to do the same…… The origin of this event is not really clear but it is spectacular and fun to watch.