Turmi – Hamar
Turmi is a small village, central in the area where the Hamar people are living. The Hamar people are very sociable and open to the visitor. They have an open approach to tourism and in our opinion they are on the right track with responsible and sustainable tourism, their pride in being Hamar certainly helps. Many tourists consider their stay in Turmi as the highlight of their visit to the south.
The Buska Lodge is the best place to stay in the area. For budget travelers, there is a nice community-run campsite.
The Monday Market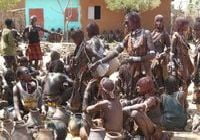 The colorful Monday market attracts Hamar people from the wide surrounding area. People have to walk up to 15 km and sometimes even more. No wonder the market only really starts going around mid-day. It is an important place to meet and socialize and catch up with the latest rumors.
Evangadi
At the end of the day when the cattle are back in the village, the younger men of the village gather together and start singing and dancing. Slowly the unmarried girls get closer, pretending not to care. Eventually, also the girls start participating and an exciting dance is the result. The elders keep a distance eye on what is going on. You might be invited to participate, but you better ask your guide what the dance is all about. Visitors are most welcome to look around in the nearby village and watch the dance, meanwhile enjoying the often beautiful sunset.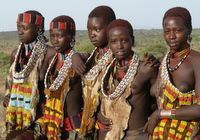 Bull jumping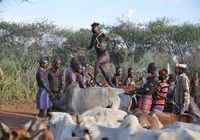 A very important initiation rite in Hamar culture is the 'leaping of the cattle' or the 'bull jump' as it is more commonly known. For a boy to become a man and be able to marry he has to walk 4 times over the backs of a row of cattle. Part of this initiation is the whipping of the female relatives of the boy before the jump. The women carry their scars with pride and when hard times come the man has to provide for and protect them to compensate for the suffering the female went through. You have to be lucky to be able to see a bull jump ceremony, most are held after harvest in August-November and January-April. Besides this the place where the ceremony is held must be accessible, sometimes long drives and/ or walks are involved.
Turmi is a good base for further exploration of the area and a stay of a couple of days, meanwhile getting to know the Hamar and their culture. The Dassanech in Omerate and the Karo in Murelle are possible to visit from Turmi. Also, the Hamar market in Dimeka (the main town in Hamar country but without accommodation) on Saturday and Tuesday is within reach.