Arba Minch
The southern town of Arba Minch is situated in a beautiful setting at the foothills of the Rift Valley escarpment and overlooking Lake Abaya and Lake Chamo. The name of the town translated as '40 springs', which are found nearby. It is an excellent base for some trips in the surrounding area.
The best places to stay in town are the Paradise Lodge and Swayne's Hotel. A real authentic place to stay, about 30 km from Arba Minch, is at the Dorze Lodge with an amazing view over Lake Abaya and Chamo and sleeping in the original Dorze hut.
Nech Sar National Park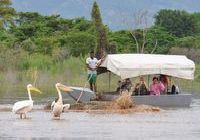 The Nech Sar National Park includes parts of Lake Abaya and Lake Chamo and the 'Bridge of God' between them. It offers stunning scenery and a variety of wildlife among them the endemic Swayne's hartebeest. Game drives and walks are possible in the park. A boat trip on Lake Chamo offers a variety of birds, most of the time hippos, and a spectacular visit to the 'crocodile market' where dozens of crocodiles (among them the biggest of Africa) warm their bodies in the sun.
Chencha and Dorze
The Dorze people are living around the villages of Chencha and Dorze. They are well known for their tall beehive-like huts which can reach over 10 meters when build. Eaten by termites from the bottom they become smaller and smaller over the years. The Dorze are famous for their weaving skills and for the use of the 'ensete' or 'false banana' as their staple food. When we visit we work together with the Dorze Lodge which has a strong involvement with the local community. During a visit, you get a real insight view in the daily life of the Dorze people. It is well worth visiting at one of the market days, in Chencha on Saturday and Tuesday and in Dorze on Monday and Thursday.