Rift Valley Lakes
Just south of Addis Ababa, the road leads down to the bottom of the Great Rift Valley where a row of interesting lakes are found. These Rift Valley Lakes harbor a great natural diversity but are also very important for the (local) economy of Ethiopia. It is a favorite destination for Ethiopians having a break out of the busy capital and a variety of accommodations is available. It is a great place to end a sometimes demanding journey through Ethiopia in a relaxing way. The area is of particular interest to birders. For visitors with a more comprehensive itinerary, a brief visit to some of the lakes to or from the south of Ethiopia are a pleasant way to break the long journey.
Koka Dam
This is the only not natural lake, being created by the construction of a dam in the 1950s. Although a beautiful lake, it is mainly of interest to birders
Lake Ziway
The lake is well known for its abundance of birdlife and an easy access road leads to a viewpoint where even non-birders will be impressed by the varieties of birds. It is said the Tullo Gudo island in Lake Ziway has been home to the Ark of the Covenant during the end of the Axumite Empire. It is possible to make a boat trip to the island, trying to find some hippo's on the way.
Lake Langano
The absence of Bilharzia makes Lake Langano the only Rift Valley Lake suitable to swim. This is the main reason the lake is more developed for tourism than the others. A number of lodges have opened in recent years. The Bisangari Lodge, Sabana Beach Resort, Africa Vacation Club, and Hara Eco Lodge offer comfortable accommodation and lots of activities.
Lake Abiata and Lake Shala
These twin lakes and the beautiful surrounding area are declared a National Park but at the moment cattle outnumber the wildlife. It is still a nice place to visit with pleasant walks and abundant birdlife, but don't expect much other wildlife. It is a must for a serious birding itinerary. Hot springs in the park are the active relics of once enormous volcanic activity in the area.
Lake Hawassa
Until recently known as Awassa, the lakeside town is the capital of the Southern Nations Nationalities and People Region. It is also the last big town before proceeding further south.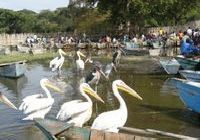 Besides the lake, the fish market is the main interest for tourists. Here the local fisherman sells their catch and plenty of birds are hanging around the place waiting for their share. Vervet monkeys and black and white colobus monkeys are easily seen. You can choose your own piece of fresh tilapia filet and have it prepared on the spot.
The best places to stay in town is the Lewi Resort and the Haile Resort. The last one is owned by Ethiopian best-known runner Haile Gebre Selassie.