Kangatan – Nyangatom
The Nyangatom people live on the western side of the Omo River, their homeland stretches into South Sudan. The small village of Kangatan is their easternmost settlement. The Nyangatom are also known as Bumi, an insulting name given by their neighbor Suri people, meaning 'the smelly ones'.
South-west Ethiopia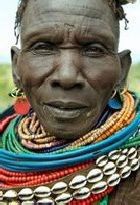 To meet the Nyangatom people it is best to take an adventurous tour to the far southwest of Ethiopia on the other side of the Omo River. This little-visited area is difficult to access from the south due to the absence of a bridge crossing the Omo River.