The Butajira Road
Butajira is a town south of Addis Ababa. The road leading there passes a number of interesting (pre) historic sites. It makes a perfect day trip from Addis Ababa.
Melka Kunture
The prehistoric site of Melka Kunture is found just 50 km (1 hr) south of Addis Ababa. The site is situated in the attractive setting of the valley of the Awash River in which lower parts of the remains of Lucy, the famous early hominid, are found. At Melka Kunture many prehistoric artifacts and fossils have been unearthed and these findings are presented in an interesting museum. One of the excavation sites is open to visitors.
Adadi Maryam
About half an hour's drive (20 km) further south along a small detour from the asphalt main road brings one to Adadi Maryam. This is the southernmost rock-hewn church in a style comparable to Lalibela. The site is dated between the 12th and 14th centuries but local tradition mentions that King Lalibela visited the church early 12th century.
Tiya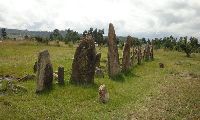 At Tiya, about 85 km (1,5 hours) south of Addis Ababa a remarkable stelae field is found. Little is known of its origin about 700 years ago, although excavations revealed that the stelae marked mass graves. 32 stelae are engraved with enigmatic symbols, the largest one standing 2 meters high. Being the most important of many archeological sites in the area, Tiya is listed as a World Heritage Site.